"The Allen C. Orth"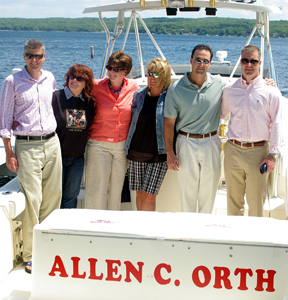 Make/Model:
Pursuit 2800 Offshore CC
Year:
1997
Length:
28 ft
Beam:
9.5 ft
Material:
Fiberglass
Approximate Weight:
8,600 lbs
Engines:
Twin 350 c.i.d. fuel injected Mercruisers
Top Speed:
45 mph
Boat #2 – The Allen C. Orth
The ALLEN C. ORTH, was acquired in 2008, thanks to a generous donation from the Orth Family. The Boat is named in memory of Allen C. Orth, who was a long-time suporter and admirer of the Patrol. Al died in the Fall of 2007, but his legacy and his love for Geneva Lake lives on with this beautiful and versatile addition to the fleet.
The Pursuit 2800 Offshore CC was an easy choice because of its versatility. This particular boat was found on Long Island, NY and was shipped to Lake Geneva in the winter of 2007-2008 where it was outfitted with brand new engines. The center console provides an excellent vantage point for the crew, while the integrated swim platform allows for easier rescues from the water. The walk-around cabin feature allows the crew to work from bow to stern with minimal obstructions. The Pursuit brand is well-known for its durability and strength, a must for Patrol work.